Photography courtesy of Lowell Washburn, all rights reserved.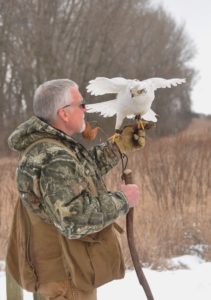 The swift and powerful group of raptors collectively known as goshawks reside in forested habitats across much of the planet. The northern goshawk is the subspecies nesting in northern North America. Large and aggressive, northern goshawks are fast enough to catch ruffed grouse and strong enough to easily subdue snowshoe hare.
Although certainly impressive, northern 'gos are not the biggest subspecies. To observe the largest, you need to journey to the remotest regions of eastern Siberia. Here, in one of the harshest environments on the planet, lives a pale race of raptors known as the Russian or Siberian goshawk – an exceeding powerful raptor capable of routinely preying on Russian hare, lesser snow geese, and just about anything else that strikes its fancy.
Actually, there are ways to catch a glimpse of this rare raptor without taking a dog sled deep into the Russian subarctic. Several years ago, a small number of Siberian goshawks were taken from the wild and imported to the U.S. Today, a very limited number of the birds are being produced in captivity and are being flown by falconers. My friends Ross Dirks of Spirit Lake and Ben Ohlander from the Twin Cities, are each flying one of these impressive hunters. Dirks has a female; Ohlander is flying a male – both birds were produced by northwest Iowa's Lance Christensen.
As often as possible, we get together in North Central Iowa – where I live – and spend time watching and interacting with these incredible winged hunters as chase wild game. Attached are photos showing some of the results of our north Iowa outings.